Zak Bagans has become a household name, as the world has been watching his no holds barred method of ghost hunting play out on the Travel Channel.
Zak and his two man crew have taken the paranormal world by storm as their popularity has risen to unbelievable heights since their first documentary, that spawned the series in 2008. But what is it about Zak Bagans and the Ghost Adventures crew that people can't resist? Who is Zak Bagans?
Zak Bagans (Zachary Alexander Bagans) was born on April 5, 1977 in Washington D.C. and began his entertainment career in a modest way, as a wedding DJ.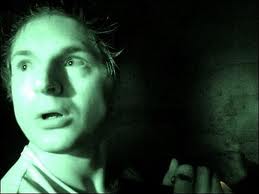 Zak Bagans was pulled into the world of paranormal during 2002, when he had an experience that he could not explain. While living in an apartment located in Trenton, Michigan, Zak started waking up at 3am almost nightly. It wasn't long before Bagans was face to face with what he believes was a ghost.
Later Zak explained that he believed the the apparition was of a woman who had ended her own life inside the apartment building. The ghost was a driving force behind Zak Bagans and his mission to capture undeniable evidence of ghosts. Bagans is a graduate of the Motion Picture Institute of Michigan, where he picked up most of the handy skills used to help create the episodes that we see on a near daily basis. It was after his graduation, that Bagans moved to Las Vegas, Nevada and met his crew, Aaron Goodwin and Nick Groff.
Zak Bagans and crew have since traveled all over the world, locking themselves inside of the most haunted and feared places on earth. Often criticized for his methods, Bagans is often seen taunting the ghosts, in an attempt to get a reaction. Other paranormal investigators have used similar methods, but not quite like Bagans.
While other investigators turn out the lights and settle in for a long night of Ghost Hunting, Zak Bagans and the Ghost Adventures crew literally lock themselves inside of the building (which is probably a fire hazard and not recommended).
In addition to his rising stardom in the paranormal community and on household television screens, an unexpected side affect occurred. Before Zak Bagans knew it, he had become a teen heart throb, with teenage girls clamoring over him, buying Ghost Adventures merchandise and following his every moved online and off. His twitter page currently has 197,448 followers and counting. You can bet that a large portion of those followers are those girls, hoping to tweet or be tweeted by Zak Bagans.
What many do not know is that Zak is more than just a ghost hunter. Bagans produces, edits and narrates all of the Ghost Adventures episodes. He is also author of the book, "Dark World" that found a spot on the New York Times best seller list and has recently founded his own clothing line, "Dungeon Wear".
Zak is also the host and creator of the new television series "Paranormal Challenge" that pits ghost hunter against ghost hunter in a quest to provide the best evidence in a one night lockdown.
At 34 years old, Bagans has accomplished more than most will in a lifetime and regardless of your personal opinion about Zak Bagans, you have to give him credit for that. You can learn more about the man behind the Ghost Adventures phenomenon below.
Related posts: