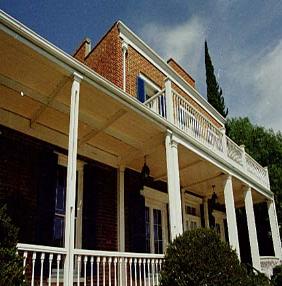 The well known Whaley House in San Diego, California has often been called "the most haunted house in America". It was built in 1857 by Thomas Whaley on grounds that once served as gallows for executions. A portion of the premises is said to have also been a cemetery at some point.  Whaley House has served a multitude of purposes over the many years since it's construction,   including a courthouse, a theatre and various other businesses.  A host of ghost sightings and paranormal experiences have emerged from the Whaley House walls, causing it to be featured in many books, articles and even television shows like The Travel Channels "Most Haunted".
Ghosts of Whaley House
One of the more famous ghosts at  Whaley House is "Yankee Jim", a man who had been hanged from the gallows on the Whaley House grounds before it was built. Thomas Whaley is said to have witnessed the hanging himself, yet still did not hesitate to purchase the property. Sounds of footsteps and dragging have echoed throughout the Whaley House and are believed by many to be the sounds of Yankee Jim's boots trying to stay on the on the wagon beneath him as long as possible, until he was hanged. Yankee Jim is said to have haunted the Whaley family while they lived in the now famous home. Others have reported seeing the ghost of Thomas Whaley himself at the house as well as his young red haired daughter who has often been confused for a real child. Other apparitions have been witnessed and some claim to have encountered Violet Whaley, who had committed suicide in the home. It seems as though everyone who has ever been attached to the Whaley house has remained attached. Even the Whaley family dog has been seen in it's ghostly form by
some visitors.
Whaley House Today
If you are feeling brave, the home now serves as a museum and tourist attraction , offering tours in which you may get the chance to see your own Whaley House Ghost. More information, stories and pictures of the Whaley House can be found at the official site www.whaleyhouse.org
Related posts: