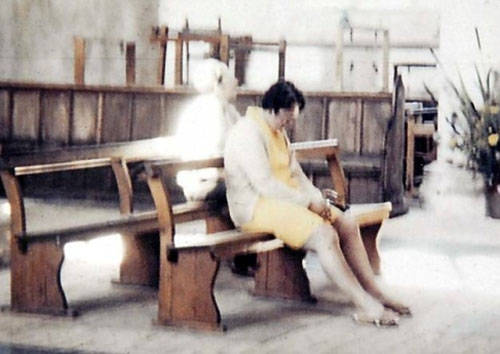 Taken in 1975, this ghost picture may show what is a very well known ghost in the area of the old Worstead Church, located in the United Kingdom.  The woman on the right is seen praying inside the church. She had been sick and was on medication for her ailments. The picture was taken by her husband, while their family was visiting the old church.  It wasn't until they were home from their trip that they noticed the mysterious figure seated behind the wife.
The couple was bewildered, as they knew that she had been sitting alone. When the couple visited the church again, they took along the picture.  The couple showed the mysterious picture to a Reverend there and it was then that they learned the legend of the White Lady Ghost.
They were told that the ghost is known to heal those who are sick and will appear when someone is in need of healing.
Reports of the ghost date back well over 100 years. According to one story, on Christmas Eve of 1830 a man boasted a challenge to the White Lady. He said he would climb to the top of the church's belfry and kiss her if she would appear. So up he went. When he failed to reappear after a time, however, friends went to search for him. They found him in the belfry, cowering in a corner, terrified. "I've seen her," he told them, "I've seen her…." And then he died.
The church has since been turned into a bar and it's hard not to wonder if the white lady ghost of Worstead Church still lingers. Does she watch over the bar patrons? Or is she gone forever along with the church that served as her home? Some say that she was never a ghost to begin with, but was an Angel, sent to watch over and heal the sick. What do you think?
Related posts: