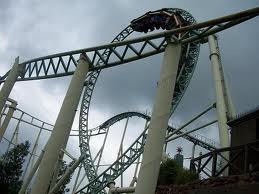 A ghoulish ghost has put the scare into a British amusement park, which is moving one of its rides over fears of a headless monk.
Thorpe Park in Surrey will relocate the Storm Surge, a new water slide that was in the midst of construction, after reports of paranormal activity by several staff members involved in the project. The claims of paranormal activity ranged from objects moving on their own to the spectral form of a monk with no head strolling through the construction site, Sky News reported.
The water ride, which was to consist of a 64-foot slide, was to be built near the Monk's Walk, a path that linked two nearby sites, Chertsey Abbey and Thorpe Church. Stone coffins were previously found and removed from the location. Read full article below..
 http://www.nydailynews.com/news/world/2011/02/08/2011-02 08_fear_of_ghosts_sparks_amusement_park_to_move_ride.html#ixzz1DWI9EJRv
Related posts: