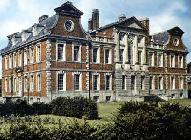 Raynham Hall is a country house in Norfolk, England. For over 300 years it has been the seat of the Townshend family. The hall gave its name to the area, known as The Raynhams, and is home to one of the most famous ghosts of all time, The Brown Lady Ghost. The Ghost Picture snapped at Raynham Hall has remained to some, as one of the most important ghost pictures in existence.
The Brown Lady of Raynham is the ghost of Lady Dorothy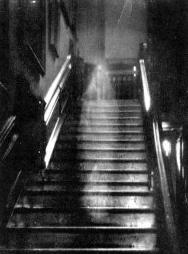 Townshend who was married to Charles Townshend during the early 1700′s. Townshend began to suspect Dorothy of being unfaithful to him.  When Townshend discovered his wife's less than faithful habits, he imprisoned her in the family estate at Raynham Hall. It is said that he never allowed her to leave, even to see her own children. She remained there until her death many years later. Historical records show that Lady Townshend had died and was buried in 1726, but many believed the funeral to be a hoax, in order for Townshend to cover up the cruel punishment for his wife.
Dorothy's ghost is said to haunt the oak staircase and other areas of Raynham Hall. She has been witnessed by many people, including King George IV, who claimed to see the apparition standing at his bedside, while staying at Raynham Hall. The Brown Lady Ghost has even been shot at by Captain Frederick Marryat who claimed to see her floating by himself and his men. He claimed to see the Ghost of Lady Townshend "grin diabolically" at his men, before he unloaded.
The now  famous ghost picture was taken in September, 1936 by  two photographers for Country Life magazine who had been given an assignment at Raynham Hall.
Related posts: