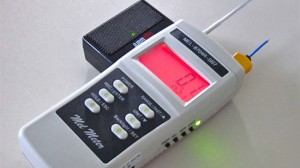 Gary Galka made many attempts to reach out  to his daughter, who had passed away unexpectedly. He lost his daughter eight years ago in a car crash and has since built more than thirty devices in hopes of hearing her voice, just one more time.
Galka is the creator of the  Mel-8704-SB7-EMF meter, as seen on the popular television show, Ghost Adventures. The device, also known as the "Mel Meter" has become increasingly popular with ghost hunters, as the devices are the only line of such devices that are exclusively designed for actual ghost hunting. The website, at which the instruments can be purchased calls them
"The only professional measurement instrument line designed exclusively for paranormal enthusiasts."
Although the inventions have attracted some criticism, Galka claims the Mel Meter has allowed him to communicate with his daughter.  It was even used to record what was believed to be her voice on a recent episode of Ghost Adventures. The voice can clearly be heard saying,  "Hi Daddy, I love you".
Galka's paranormal devices are sold through D.A.S. Distribution Inc. in East Granby, which has six employees and makes the equipment in-house. Regardless of the criticism, Galka builds much of the equipment used by teams like the GAC crew.
What Galka has experienced is unimaginable. People may have their opinion on the effectiveness of his equipment, but his motives cannot be questioned. If you had experienced a loss like Galka and thought that there was a way to hear your child's voice just one more time..Wouldn't you build them?
If you would like to learn more about this ghost hunting device, you can visit the site below. You can also watch a Recent Ghost Adventures Episode featuring the Galka family below.
http://www.pro-measure.com/Mel_Meters_s/97.htm
Related posts: