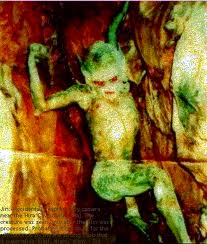 Jinn, also known as demons or "Genies" to some have been blamed for the disappearance of A Yemeni girl that  has been missing for nearly a month in Saudi Arabia, a newspaper reported on Thursday.
The 23-year-old girl stepped out of her house in a mountainous village near the western town of Taif and never returned, prompting a massive police search campaign, Sabq Arabic language daily said.
"Some people told police they saw her walking on a hill not far from her house then vanished again," the paper said.
"Her brothers and some residents in the village said she sometimes appears at night and then suddenly disappears…they told police that they believe she has been haunted and taken by jinn." Read More
http://www.emirates247.com/news/genies-blamed-for-girl-s-disappearance-massive-manhunt-fails-to-find-her-2011-02-10-1.354308
Related posts: