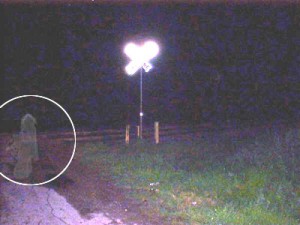 Just outside San Antonio, Texas lies a railroad crossing that has been the center of haunted legends and local folklore for many years. The story of this railroad track begins tragically, with a horrible accident involving a school bus and a train.
According to legend, a school bus carrying many children somehow stalled on the tracks and was hit by an oncoming train, resulting in the deaths of the children and the school bus driver. Ever since, cars that stop in front of the tracks are said to be pushed across to the other side, by unseen forces. Legend states that it is the ghosts of the children killed many years ago, trying desperately to help everyone across the tracks, so that they will not meet the same fate.
This phenomena has been experienced by hundreds if not thousands of people and has been documented on film. Some even report finding tiny hand prints on the back of their vehicle once across the tracks. A photo was snapped some years back at the location that appears to show the image of a ghostly girl and her dog.
So are the Railroad Tracks in Texas haunted by the ghosts of children? Many people say yes. Next time you are in the San Antonio Texas area, be sure to pay a visit to the haunted railroad tracks and you may just find out first hand.
Related posts: