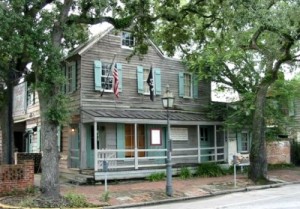 The famous Pirate's House Restaurant in Savannah has a deep history that goes all the way back to the very foundation of Georgia.  It is reported to be one of the oldest buildings in the state of Georgia and is connected to "The Herb House", which is actually the oldest building in the state. The Pirates house was constructed overlooking the Savannah River and rests on part of the original property created during the colonizing of Georgia that was called "Trustee's Garden" The gardens were experimental gardens used to test different crops for the new world. They had the idea that  Mulberry trees could be grown and used for the silk industry. Unfortunately they were frozen and did not survive. Soon it was cotton and the famous Georgia peach that won the battle of Trustee's Garden.
If walls could talk, these walls could write a novel. As a matter of fact it is believed that The Pirates House was featured in the famous novel, "Treasure Island" by Louis Stevenson. There is a brick cellar underneath the Pirate's House that still exists today. The cellar has a tunnel that leads out to the river, where many a man was captured and led to his unfortunate fate on a sailing ship. The
Pirate's House was an infamous Hangout for pirates and sea captains. A place that was frequented by even the likes of Blackbeard himself.
The Pirates House is one of the more famous haunted houses in Georgia  Tales of lights from the top floor, where the seamen and pirates would stay are told regularly. People have reported noises and other various paranormal activity inside the house. Very few dare go into the cellar and it is reported that many employees of the now famous restaurant have had experiences with the ghosts of
sea captains from long ago. There are areas of the house that even the owners will not go into alone.
If you are ever in the Savannah area ( a must for ghost hunters) and would like to see one of the most famous haunted houses in Georgia and get a good meal at the same time, be sure to visit The Pirate's House. www.thepirateshouse.com
Related posts: