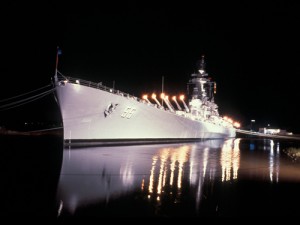 In the coastal town of Wilmington, NC sits a 36,000 ton piece of history known as the Battleship North Carolina. Although permanently docked at Eagle Island in Wilmington, the ship was once considered the finest sea weapon of it's time.
The haunted ship was once an intricate part of Naval battles in WWII and earned 15 battle stars to prove her worth as a Naval weapon. Although it is not her war history that has put the Battleship NC at the center of attention in more recent years. It is the ghosts and haunted activity that has managed to put the battleship on the map of ghost lovers everywhere and even caused the Battleship to appear on such television shows as the Syfy channels "Ghost Hunters".
During it's battles the U.S.S. North Carolina was fortunate enough to lose only 10 of it's brave men. However it seems as though a few of those men never left the ship and were docked at Eagle Island along with their massive iron sea home.
Many tales of ghosts and paranormal activity have been told about the former WWII battleship. Some of the most popular ghost stories seem to always involve a young sailor with blond hair. The blond ghost has been spotted numerous times on the ship, along with other spectres and apparitions that have been witnessed peeping from port holes.
There has also been no shortage of phantom footsteps, voices and other disembodied occurrences on the ship over the years. Hatches are said to commonly open and close themselves and lights seem to have a mind of their own.
The U.S.S. North Carolina now serves as a memorial to NC soldiers, marines and sailors who were killed in the second world war and is available for tours if you are in the Wilmington,NC area. There is even a "Ghost Ship" event held during the Halloween season that is sure to frighten even the bravest of men that dare step onto the Battleship North Carolina.
Official Battleship North Carolina Page
Related posts: